"Hội An - Japan Cultural Exchange" is an annual event that promotes cultural cooperation and exchange between Hội An and Japanese organizations, individuals, and localities. After 17 years of organization, the event has left the participants with many positive emotions regarding the two countries' strong and friendly relationship.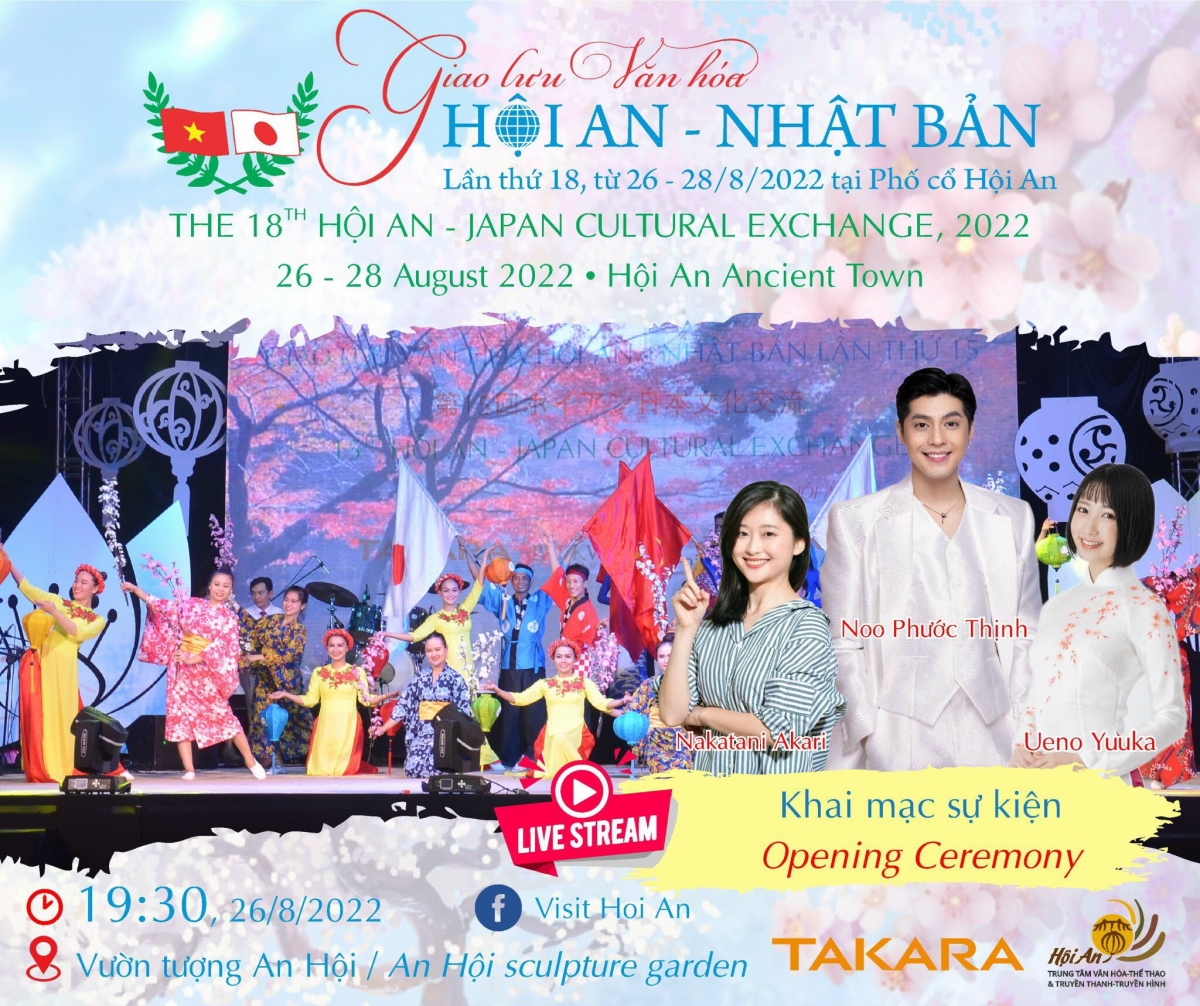 "The 18th Hội An - Japan Cultural Exchange" event will be held from August 26 to 28, 2022 in the beautiful ancient town in Central Vietnam, with numerous appealing and exciting activities imbued with the cultural identities of Hội An and Japan. It's going to be a sweet symphony for friends from all over the world.

The Opening Ceremony will take place at An Hội Sculpture Garden at 7:30 p.m. on August 26, and will feature the following performances: The introduction of the Opera "Princess Anio", the art performances of Hội An city, and especially the performances of singer Noo Phước Thịnh; singer, Goodwill Ambassador of Hội An - Japan Cultural Exchange - Ueno Yuuka; and singer Nakatani Akari (also an actress playing in the movie "Em va Trinh").

On this occasion, the city will hold a solemn Opening Ceremony of the Japanese Cultural House at 6 Nguyễn Thị Minh Khai street at 4 p.m. on August 26. The Japanese Cultural House, located in the Vietnam - Japan Cultural Space, is decorated and installed in the hues of the "Land of the Rising Sun". This is also where cultural publications and tourism information on Japanese cities with ties to Hội An are introduced and displayed. Here, visitors will be able to experience services such as tea ceremony, Origami paper folding, and Japanese fine weather doll (Teru teru bōzu) making; as well as visit the galleries of Nagasaki prefecture, Sakai city, Matsusaka city, and Mr. Sugi Ryotaro - Former Special Ambassador for Vietnam-Japan.

On the same day, at 5:30 p.m., the city will hold the Inauguration Ceremony of Public Toilet sponsored by TAKARA company, Japan at Sông Hoài Square. This is the unit that has accompanied Hội An in many activities such as tourism promotion, cultural exchange, education promotion, etc. during the past time.

In order to provide a playground for interaction between locals and visitors while also introducing the long-standing recreational sport of Hội An people, the city will hold the Boat race "Hội An - Japan and tourists" at 8 a.m. on August 27 on Hoài River - the center of Hội An Ancient Town. This exciting traditional activity is expected to draw a large number of locals and visitors to participate, cheer and chant.

The love story between Princess Ngọc Hoa and trader Araki Sotaro marked the beginning of the two countries' predestined relationship. For 400 years, Hội An and Nagasaki have always maintained and promoted their good relationship. At 4 p.m. on August 27, the wedding procession of Princess Ngọc Hoa and Japanese trader - Araki Sotaro will be re-enacted. The space "on the dock under the boat" full of nostalgia about a time of prosperity and busy trade, will undoubtedly leave viewers with numerous feelings and recollections.
The Cosplay Contest, held at An Hội Sculpture Garden at 5 p.m. on August 28, is a youthful and exciting activity. Young contestants will dress up as characters from Japanese anime and manga that are familiar to generations of young people in Vietnam and around the world.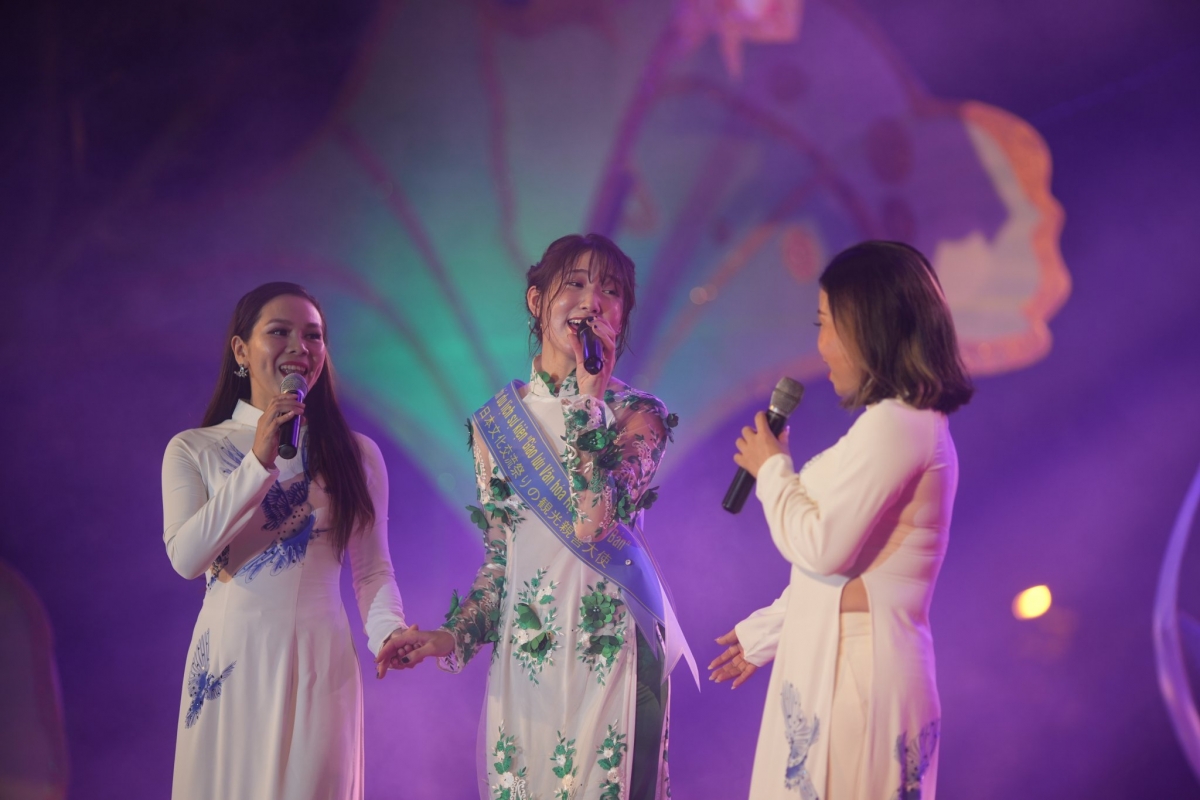 The event also includes regular activities from 3 p.m. to 9:30 p.m every day between August 26 and 28 at An Hội Sculpture Garden; such as Vietnamese - Japanese cultural space with sushi, taiyaki, takoyaki, tempura, bánh xèo (rice pancake), grilled pork skewers, chicken rice, Quảng noodles, etc.; Hội An farmers market with OCOP, organic, and handmade products, etc.; Booths of Japanese items, accessories, manga, cosplay and organic agricultural products; Booths of Japanese culture and tourism information introduction; etc. Many other activities will take place as part of the event, including Green corner of SEA Club, Hội An - Sakai calligraphy demonstration, Stick pushing competition, Sack race, Street performance program, and "Japanese old traces" tour.

After a two-year suspension due to the pandemic, Hội An - Japan Cultural Exchange will be re-organized, marking the enthusiasm and efforts of the participating units. Many organizations and individuals in Japan and Vietnam are increasingly paying attention and supporting this event because it contributes to improving mutual understanding, strengthening the close and affectionate relationship between the people of the two countries, expressing the message of strong friendship, overcoming all difficulties, and looking forward to the future together.
The center for Culture, Sports, Radio and Television of Hoi An city