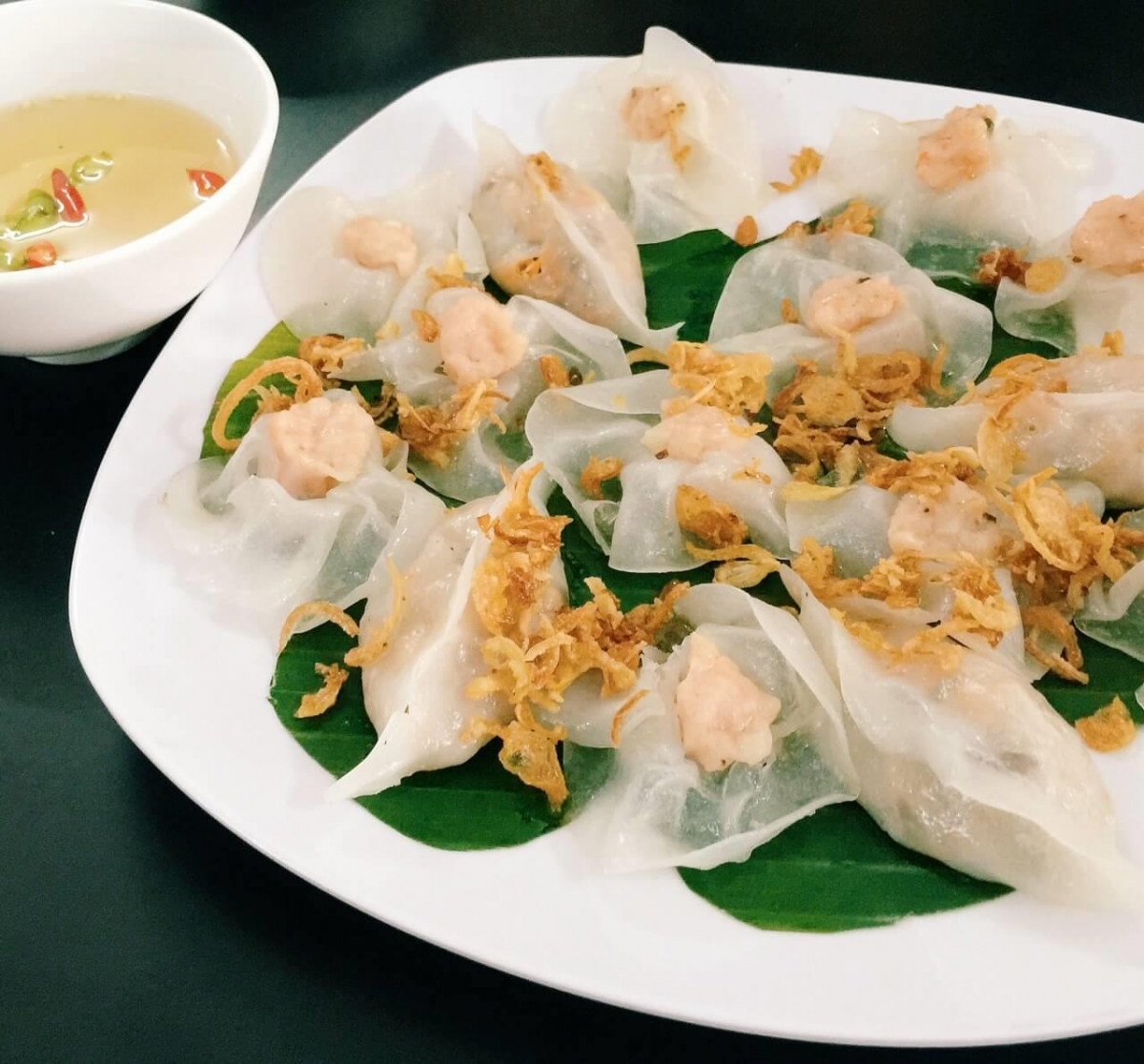 It is a great pity if you have not enjoyed the cuisine in Hội An. Have you tried Cao Lầu, Quảng noodles, stir-fried baby clams, crushed rice crackers, Bánh Mì? Here, there is also a specialty called White Rose dumplings.
Legend has it that this dish was created while learning the Chinese people's technique for producing steamed cakes, but it has since been greatly altered. Instead of wheat flour, people used to use rice flour from delicious rice which was grown in the fields around Hội An.
The outer crust is made from rice flour. People choose delicious rice, soak it overnight, then grind it into a powder, knead the dough several times to make it soft and chewy. Hội An is an area of estuaries, coastal areas, ponds and lakes, all of which are rich in shrimp and fish. So people use pureed shrimp and pork to make the filling. The filling is molded into small round balls. These dumplings resemble ancient people's money sacks in shape.
Another variation is to peel the shrimp, mince then stir-fry with mung bean sprouts and onions to make the filling. These dumplings are often used on the anniversary of death anniversary, ancestor worship,…
White Rose dumplings are also cooked for making White Rose soup. The cooking method is extremely simple, you drop the dumplings into the bone broth and cook until soft, then turn off the stove.
Legend has it that the name 'White Rose' appeared when foreign tourists enjoyed the dumplings and asked for the name, restaurant staff associated its shape with a rose-like shape, so it was promptly named 'White Rose'. Later, people molded these dumplings to look like roses, which was different from the original shape of money sacks.
Currently, only a few families in Hội An can make these special dumplings to their original taste. When you visit Hội An, you can enjoy this dish at some prestigious places such as Quân Thắng ancient house, White Rose Restaurant at 533 Hai Bà Trưng, or some famous restaurants here.
The soft and chewy dumplings with sweet shrimp and mung bean sprouts, as well as some specialties here promise to be a wonderful and unforgettable experience for you.