In the bustling melody of the spring chorus, the Spring Flower Festival will take place on the routes: Trần Hưng Đạo, Nguyễn Huệ, Hoàng Diệu, Ngô Gia Tự,... from January 14 to 21, 2023. These streets will be filled with colorful flowers and ornamental plants, bringing joy and new vitality to anyone who comes to walk and enjoy.
One of the regular activities such as the Farmers market "Start-ups and Creativity" will take place at 8 Hoàng Diệu street from January 16 to 19, 2023, in response to the National Startup Year - Quảng Nam 2023. The market features handicrafts, OCOP (One Commune One Product), handmade items and creative spring decorations made by Hội An people.
In the ancient town, there will be the Photography exhibition "Colors of Vietnam's three regions", which will feature photos from photographers' artistic perspectives from January 15 to February 6, 2023.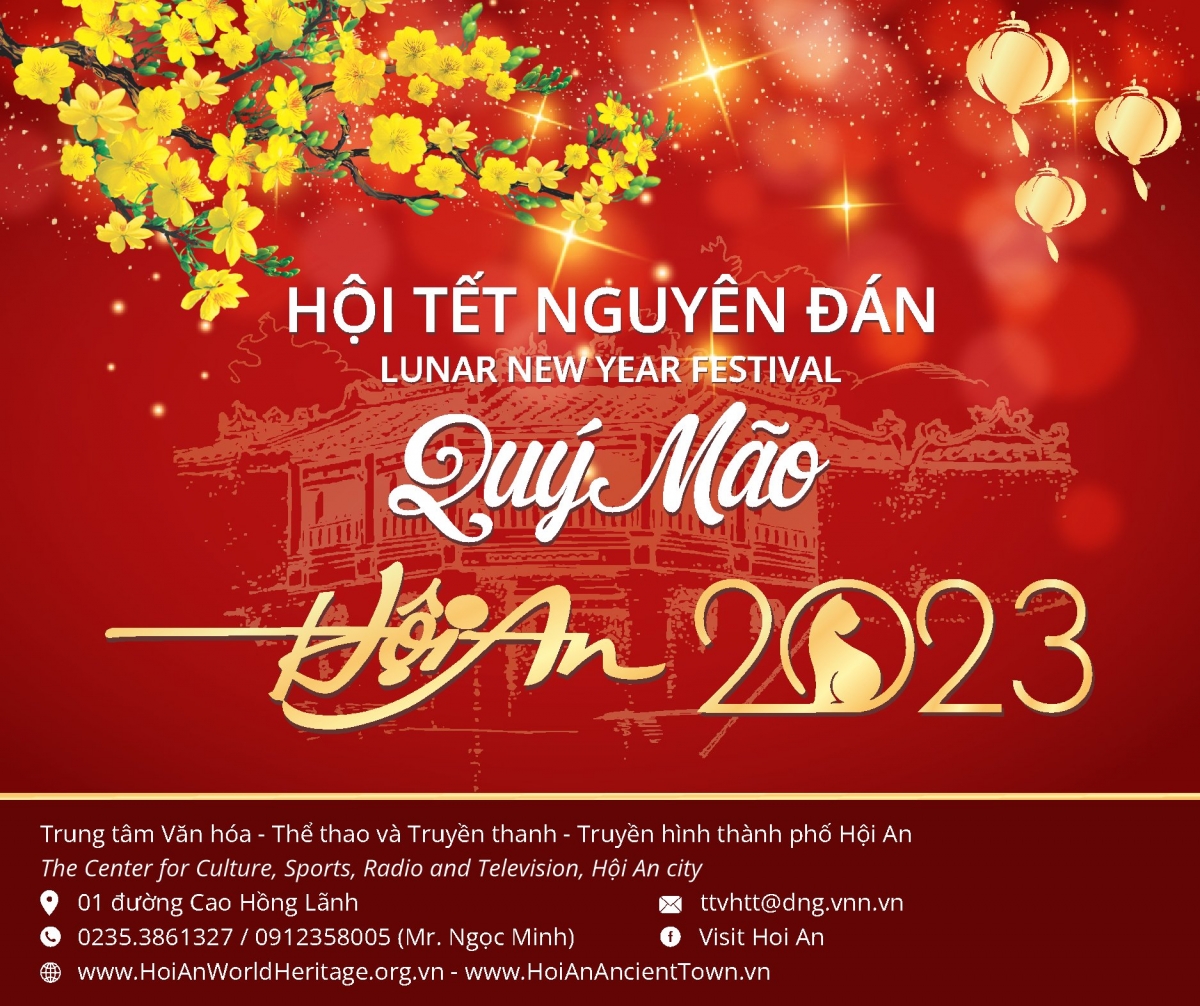 Especially, from January 16 to 20, 2023 and from January 23 to 27, 2023, the "Old Tết market" with cultural stories of customs, cuisine, folk games, culture-art, costumes of Hội An, Quảng Nam will be held in Caman Village (1 Nguyễn Thành Ý street).
The highlight is the Lunar New Year's Eve Festival, including the Dance party "Spring on the streets" with a bustling melody that will bring good wishes to locals and visitors in the ancient town from 7 p.m; and an art program to welcome the Lunar New Year's Eve 2023 with the performance of famous singers such as Phạm Đình Thái Ngân, Akari Nakatani, Thạch Thảo along with Hội An art troupe at An Hội sculpture garden, from 10:30 p.m.
The Nguyên Tiêu Festival will be held from January 31 to February 6, 2023. This activity will bring many meanings for the Hội An people, in order to honor the ancestors and wish for a happy and prosperous new year. Especially, on the morning of February 5, 2023 at Hội An communal house (27 Lê Lợi street), Hội An will hold a Certificate-receiving Ceremony of Nguyên Tiêu Festival as National Intangible Cultural Heritage, in order to honor outstanding cultural values in Hội An; thereby contributing to raising the community's awareness of the Nguyên Tiêu Festival in Hội An, as well as raising the pride, sense of responsibility of each citizen in joining hands to preserve, protect and promote the value of the national intangible cultural heritage.
On the occasion of the Lunar New Year, many other ritual activities will be also solemnly organized by Hội An people, such as Trà Quế Good crop-praying Ceremony, the Death anniversary of Kim Bồng Carpentry Village's founder, the God of agriculture worshipping ceremony,… These activities are the foundation for the city to orient the development of spiritual tourism in the future. The development of spiritual and cultural tourism has created an advantage in preserving and promoting the long-standing values of the locality. At the same time, it is a place for both locals and tourists to look towards the good spiritual values created by their forefathers over many centuries.
The Bài Chòi Singing Contest will be held from February 7 to 9, 2023, with the participation of city art competition teams. This is also an activity to preserve and promote traditional culture to future generations while Hội An is going towards the UNESCO Creative Cities Network in two fields of handicraft and folk art.
Furthermore, the Spring Press Festival, Tree-planting Festival, The reappearance of the Tết pole, the Spring boat race as well as entertainment activities, folk games,… are all part of the Lunar New Year Festival.
People are excitedly awaiting the arrival of spring on the streets. The activities in the "Lunar New Year Festival 2023" are very practical, showing the traditional identity while promising to provide locals and visitors with a vibrant and meaningful spiritual life during the Tết holiday.
******************
For further information, please contact:
The Center for Culture, Sport, Radio and Television; Hội An city
Add.: Sông Hoài square - 1 Cao Hồng Lãnh str.
Tel.: 0235.3861327 or 0912358005 (Mr. Ngọc Minh)
Email: ttvhtt@dng.vnn.vn
Website: www.HoiAnWorldHeritage.org.vn - www.HoiAnAncientTown.vn