The event "Hội An traditional occupations' beauty", taking place from July 15 to 17, 2022 at Đồng Hiệp park, is an opportunity to introduce occupations and occupation villages in Hội An; honor artisans and craftsmen; preserve, create and promote traditional values in tourism development of "smokeless industry" in Hội An ancient town - World Cultural Heritage. Its message is to honor the cultural values of traditional occupations while also fostering creativity for the future.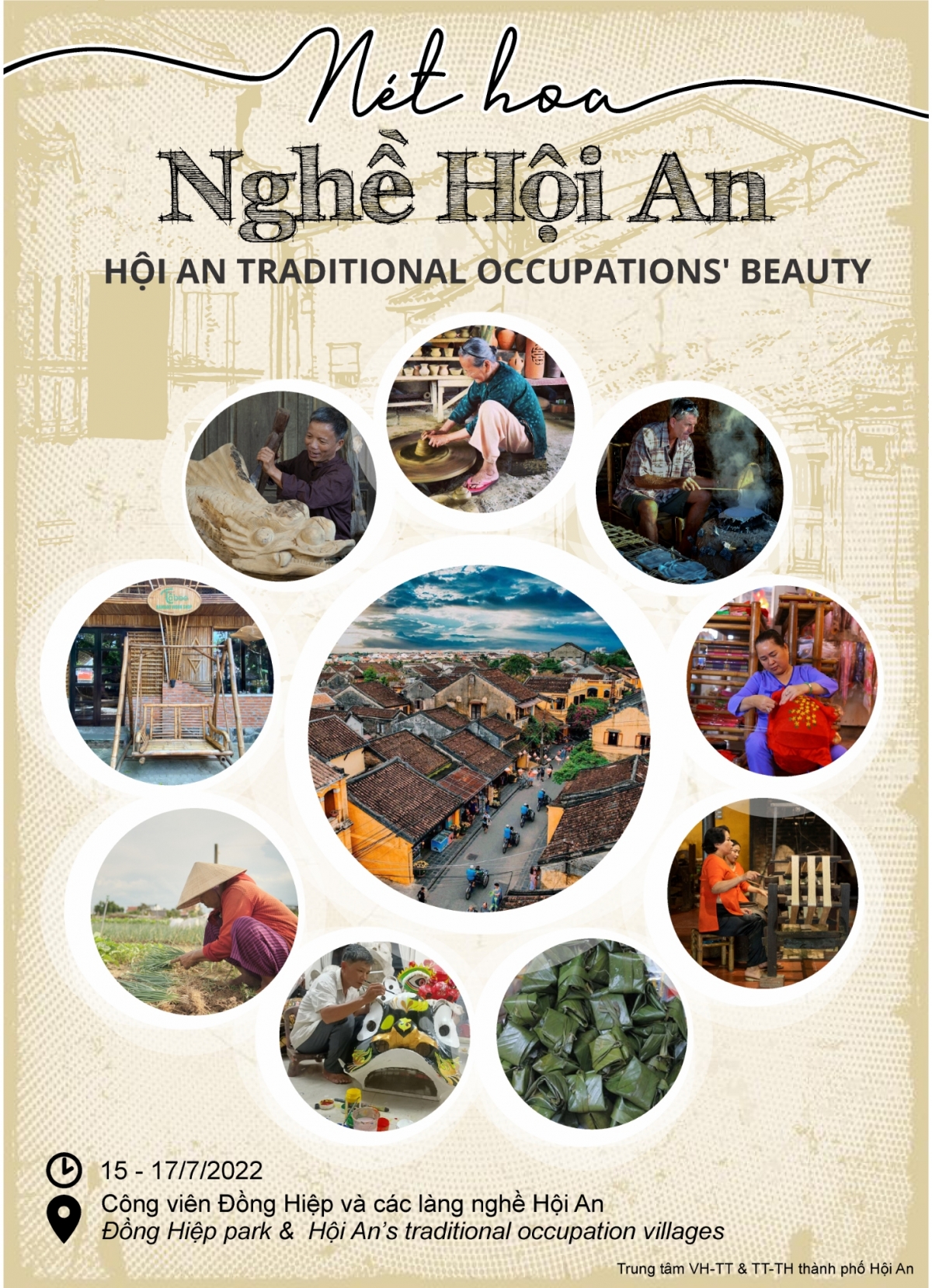 The opening program of the event "Hội An traditional occupations' beauty" will take place at 7 p.m on July 15, and the closing program will take place at 7:30 p.m on July 17 at Đồng Hiệp park. It promises to offer both locals and visitors a traditional art program that includes performances praising Hội An's traditional occupations, occupation demonstrations, hò khoan singing, Tung Tung Dá Dá dance of the Cotu people,...
The event's highlight is the space to showcase and introduce products, as well as honor artisans and occupation villages, which runs from 4 p.m to 9:30 p.m from July 15 to 17, 2022. By the skilled hands of artisans; the pavilions are created entirely of bamboo, wood, and silk materials; providing a rustic creative space that is imbued with Vietnamese countryside. The occupations and occupation villages in Hội An, such as Thanh Hà pottery, Kim Bồng carpentry, silk and brocade, sacred dog head and unicorn head production, lantern production, bamboo painting production, net knitting production, etc. are introduced in the space; promising to bring interesting experiences, helping viewers better understand the long-standing cultural beauty, as well as creativity and talent of Hội An people.
In addition, Hội An culinary space with specialty dishes associated with Hội An's occupation villages and villages, such as Trà Quế vegetables, steamed thin rice pancake, Cao Lầu, Quảng noodles; as well as traditional cakes, such as mung bean cake, steamed layers cake, Vietnamese glutinous rice doughnut, mango-shaped cake… will undoubtedly provide visitors irresistible delicious taste when enjoying.
Many cultural and entertainment activities are also organized in Hội An's occupation villages. The Title-receiving Ceremony of National Intangible Cultural Heritage of "Trà Quế Vegetable Cultivation" will take place at Trà Quế vegetable village, at 7:30 a.m on July 16, including activities such as a boat race, vegetable growing competition, cuisine, and Bài Chòi singing. At Thanh Hà pottery village, there is also a festival "Children with traditional pottery occupation", as well as sightseeing and experience programs in Terracotta Park.
Also on this occasion, the city will organize a seminar titled "Orientation to develop traditional occupations and folk arts towards the creative city" at 10B Trần Hưng Đạo street, at 1:30 p.m on July 15. Its goal is for scientists and managers to exchange and comprehensively assess the significance of traditional occupations and folk arts in Hội An's development path; as well as propose solutions to introduce and promote Hội An's cultural values, resources and people to the world.
There are also many other activities, such as the Introduction of silk and brocade at Hội An Silk Village, the Display of products made from rags and scrap wood at Coco Casa Collection, Cycling "For Hội An Cultural Heritage", the Introduction of Tây Giang district's tourism information and traditional occupations, regional cultural exchanges, Hội An fair market,... These are all very special tourism products that demonstrate Hội An's talent, creativity and development orientation toward green tourism, nature closeness, and environmental friendliness.
Hội An is a land with a long history and culture. The people here have learned how to preserve, promote and apply this valuable capital to tourism development, as well as create unique products, deliver interesting experiences, and profound affection to tourists, and therefore expand the economy and improve the people's quality of life.
The event "Hội An traditional occupations' beauty" is an opportunity for us to introduce to domestic and international tourists the talents, sophistication, and creativity of Hội An people in the field of crafts, handicraft products and handicrafts at a time when Hội An is building a candidate profile to join the UNESCO Creative Cities Network. From there, we may promote our inner strength, use external resources to enhance the rich history of Hội An culture, as well as apply and create traditional values in the new period.