In order to achieve sustainable development and become a member of the "UNESCO Creative Cities Network", Hội An is making efforts to preserve and promote the values of traditional occupations, occupation villages, and folk arts. Handicrafts and Folk Arts are the two fields that Hội An aspires to be a creative city.
According to Ms. Trương Thị Ngọc Cẩm, Director of Hội An Center for Culture, Sports, Radio and Television: "Over the years, our Center has organized folk singing classes in schools as well as the ancient town, Bội singing classes for children, Bài Chòi singing contests, the introduction and performance of Bài Chòi at domestic and international events… The Bài Chòi folk game, which is held every night in the ancient town, in particular, has become a unique tourism product, attracting a significant number of visitors to play and enjoy.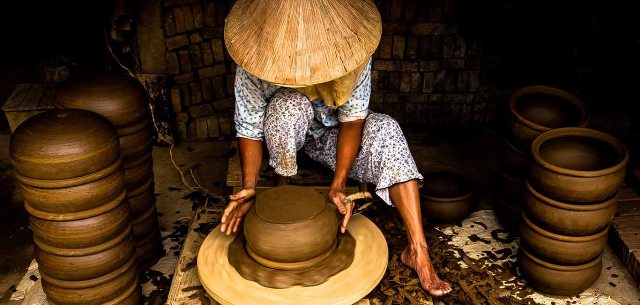 Currently, in the face of problems such as a lack of human resources in this field in Hội An, as well as a restricted number of artists, the Center is working on building a Project to preserve and promote the values of folk arts to advise the City People's Committee. This Project will include mechanisms and policies to attract and foster talents while also instilling in them a desire to uphold the values left by their ancestor."
Mr. Quảng Văn Quý, Deputy Director of Hội An Center for Cultural Heritage Management and Preservation stated in the field of handicrafts: "The most important thing now, in my opinion, is to continue researching, collecting, and applying digital technology to document objects and parts of occupation heritage and occupation villages. Furthermore, a mechanism to attract a team of youthful workers is required, as well as a regime to assist and honor artisans so that they can pass on traditional values and occupation quintessence. Continuing investment as well as further strengthening the coordination between all levels and sectors to develop occupation villages and create attractive destinations to attract tourists should also be focused."
The center for Culture, Sports, Radio and Television of Hoi An city