Hoi An's lively culture and unique historical stories are reflected in outdoor performance show Hoi An Memories, a combination of art and culture.
Hoi An Memories, launched in 2018, has quickly become a must-see attraction for both Vietnamese and foreign visitors.
A little island that reconstructs a famous 16-17th century port and is a pioneering cultural tourism destination has received acclaim and found a place on the tourist map.
It all began with concern and profound love for the culture and history of this heritage area.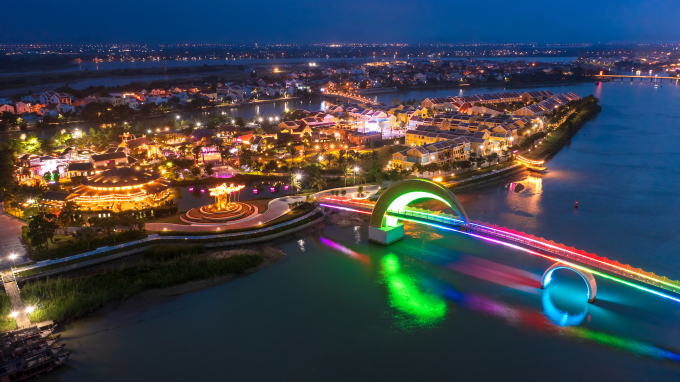 Hoi An, the moss-covered town on the central heritage route, has long been famed for its ancient port where trading ships from Japan, China, the Netherlands, Britain, France, and Italy came and went.
Today Hoi An is known for its moss-covered old rooftops, golden walls, characteristic bougainvillea, and traditional artisan villages that have thrived for hundreds of years, including the Silk Village, Pottery Village, Tra Que Vegetable Village, and so on.
As a result of nearly two centuries of cross-cultural mingling, Hoi An has a great story to tell. What was a busy port like? What was life like in Hoi An? And how should the beauty of a modern, new but mysterious Hoi An be described? It is all great material, maybe not novel but never fully explored before.
With such profound thoughts, John Nguyen, the founding chairman of Hoi An Memories, had numerous concerns.
His love for Hoi An's lively culture and unique historical stories drives him to constantly ask the questions: "What should we do to create a great destination based on cultural imprints and uniqueness of the heritage? How to devote a special construction to Hoi An and its visitors? What, other than an old town, mossy walls and confetti, comes to mind when tourists think of Hoi An?"
And that is where Hoi An Memories begins - an inspiring destination in the heart of the famous ancient town.
A destinationforcultural tourism
John Nguyen's deep passion for Hoi An's culture and history, his anxieties and persistent quest for answers, and his ingenuity have produced an exceptional tourism destination on the road to the memories of Hoi An.
There are many cultural tourism models around the world, with the core being an impressive performance program such as the Ancient Song of Heaven, Impression of Lijiang of China, Cirque du Soleil of France, and Sarugaku plays of Japan.
The art is based on cultural - historical factors and stands firm in the face of the constant fluctuations in global tourism trends.
Those are the things that Nguyen respects and seriously studies for building a destination.
A destination built on cultural values is a relatively new concept in Vietnam. This model necessitates meticulousness, extensive study and huge investment, for the highest goal of preserving and promoting Vietnamese culture, history and art to the rest of the world.
Hoi An Memories has become a pioneering destination amid the growing trend of cultural tourism in Vietnam, an important landmark on the Central Heritage Road as a pioneer of cultural tourism.
The show has received recognition from both Vietnamese and foreign tourists in the last five years. It is also being constantly updated creatively and innovatively.
In the five years since its launch, Hoi An Memories has gradually garnered success as a result of its efforts to develop a new tourist model.
In 2019 it was shown at Times Square, New York, and named "The most beautiful show in the world" by Reuters news agency.
For a long time more than 100 news organizations have disseminated this information.
The World Travel Awards, the so-called Oscars of the international travel industry, named Hoi An Memories Resort & Spa Asia's leading entertainment resort in September 2022.
Hoi An Memories Land was named the World's Leading Entertainment Destination in November 2022 at the World Travel Awards Grand Final Gala Ceremony in Muscat, Oman.
Cre: vnexpress.net